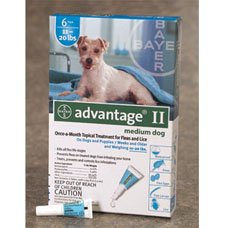 Advantage Flea Control
Advantage II is a liquid applied to the dog's skin, usually between the shoulder blades. As with any spot on treatment, you need to keep children away from the application area for at least 24 hours.
The good news is Advantage II starts working in minutes. Flea protection is a very important part of a dog's life. The quicker you get them varmints off your your dog, the better. The dog's constant chewing and scratching can cause a secondary skin infection along with bleeding, scratches, and hot spots.
Advantage II will kill 98-100% of adult fleas within 12 hours, stops fleas from biting in 3-5 minutes, and kills re-infesting fleas within 2 hours.
Advantage - active ingredient is imidacloprid.
Advantage II - active ingredient is imidacloprid and pyriproxyfen.
The addition of the insect growth regulator (IGR) pyriproxyfen means Advantage II inhibits development of flea eggs and larvae to break the flea life cycle, so there is no development into biting, breeding adults. Advantage II is an effective treatment against chewing lice on dogs.
Advantage II remains effective following a shampoo (hypo-allergenic shampoo is recommended), swimming, or after exposure to rain or sunlight. One tube can be effective for up to one month. Each package contains easy-to-use squeeze tubes. For dogs only: 7 weeks or older.
Advantage II is manufactured by Bayer
Advantage II does not kill ticks.
*source: PetMD
Advantage
K9 Advantix
Frontline Plus
Fiproguard Plus
Comfortis
Capstar


For questions or comments, you can contact me @Animal Ark Grooming or in my NEW Facebook comment section below.