Capstar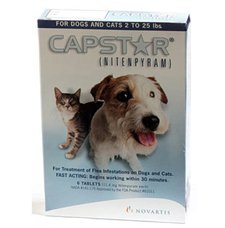 Capstar comes in pill form and treats flea infestations on pets. It is very effective and will start killing fleas as quickly as 10 minutes. It takes about 4 hours to kill all the fleas, and lasts about 24 hours.
My customers often call me asking if I do flea dips because their pet is infested with fleas. I do not offer this service for fear of fleas lingering in my shop. The last thing I want is for one of my clients to pick up fleas and take them home. And on the same hand, my clients do not want to pick up any fleas from my shop.
If your pet is highly infested with fleas, this is a good first phase remedy in controlling fleas. One pill lasts 24 hours. You can buy the pills at your local veterinarian, Co-op Store, or farm supply store.
Give the pill to your dog, then wait a few hours. All the fleas should be dead by then and you can bathe, or have your dog bathed without fear of spreading fleas into other areas. I suggest you sit your dog in the bathtub or sink right after you give him/her the pill, so when the fleas start dyeing and falling off, they will be in an easy to clean up area.
It is recommended to wait about 24 hours before applying a spot on treatment. This will continue to work until you can apply the monthly treatment the next day.
Capstar is very affordable and it is a good idea to keep some on hand in the event your pets are exposed to fleas. You may want to inspect your dog after returning from places such as:
Dog parks
At pet shows
At the vet's office
Boarding
At the Groomer's
Active ingredient is Nitenpyram, which interferes with the normal nerve transmission of insects, effectively killing them. Not a preventive. Use on dogs and cats 4 weeks and older.
Some other preventatives available:
Advantage
K9 Advantix
Frontline Plus
Fiproguard Plus
Comfortis
Capstar

For questions or comments, you can contact me @Animal Ark Grooming or in my NEW Facebook comment section below.