Dog Food Recipes

Using your own dog food recipes seems to be the way to go these days. Skin allergies are becoming more common in today's dogs, and most are contributed to their diet and shampoos. There are so many fillers and chemicals in commercial products and it's getting harder and harder to find good nutrition for "Your Other Family Member".
Here's where you can find an alternative, make a submission, or enjoy some of the other's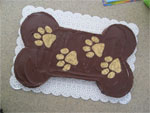 Pay it forward

Dog Treats Recipes
Homemade Dog Food Recipes
Dog Birthday Cake Recipe
Dog Cookies
Dog Shampoo Recipes
Do you have a dog food or shampoo recipe?
What is your favorite recipe that your dog just loves?
I encourage you to attach a picture if you have one, as a visual enticement.
What Other Visitors Have Said
Click below to see contributions from other visitors to this page...

Peanut Butter Treats Not rated yet
2 talbs corn oil, 1/4 c butter, 1 c water, 1 c whole wheat flour, 2 c white flour. preheat oven 350 combine oil, peanut butter and water. …
Dog Cookies Not rated yet
8 cup flour 2 cup heat germ 2 cup powdered milk 12 Tbl shortening (5.8 oz. No wonder dogs like these so much) 8 Tbl Honey (4 fl. oz) 4 eggs 2 cup …

For questions or comments, you can contact me @Animal Ark Grooming or in my NEW Facebook comment section below.