Gatlinburg's Cinco de Mayo Chihuahua Events
Saturday May 5, 2012
----------- Dog Parade ------------
| | |
| --- | --- |
| | The Chihuahua Events started off with our Dog Parade. Our morning weather had me worried for a bit, but the skies cleared up and it turned out to be a perfect morning for a stroll through Gatlinburg, TN. The visitors stopped and petted the dogs and loved the outfits. |
---
| | |
| --- | --- |
| | The parade was open to all breeds and everyone who joined us had a blast. Not only did we have Chihuahuas join the parade, we also had a pair of Pugs, and Australian Shepard, and a Maltese dressed to the tee. |
---
| | |
| --- | --- |
| | The Pug sisters were the winners of our "Best Outfit" contest. All contestants recieved a gift basket for attending. There were 2 Pugs, but being the ball of energy that they are, I was only able to photograph one. |
---
------------ Chihuahua Races ------------

The Chihuahua Races went great! This was our first year doing this Chihuahua Events and we had a better than expected turn out. We had lots of volunteers that helped in many different areas of the event from setting up the track to creating the baskets that were presented to the winners.
A special Thank You to
Ripley's Aquarium for donating prizes
Gatlinburg Special Events Department for donating supplies
Loco Burro for hosting the event
But the greatest contributor to the event was the people who came to watch. They really made the difference in the excitement of the dogs and participants.
| | |
| --- | --- |
| | GET SET!! |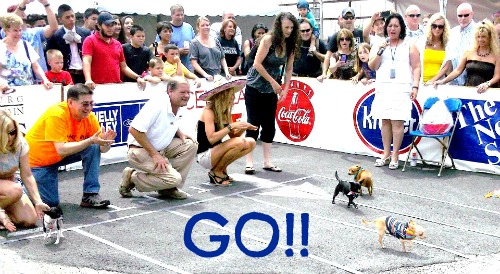 And the Winners Are.....


For questions or comments, you can contact me @Animal Ark Grooming or in my NEW Facebook comment section below.